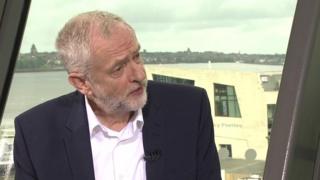 Jeremy Corbyn has vowed to give more say over policy-making to grass-roots Labour supporters to help build a "more equal and decent society".
The newly re-elected Labour leader said there was a desire to do things differently, promising "real-time" online debates about policy positions.
MPs critical of his leadership should now focus on "making the party and the movement stronger", he told the BBC.
His message to them was "make sure you agree on policy and go out and do it".
The Labour leader, who was re-elected on Saturday with a larger mandate, acknowledged there were "differences of opinion" between him and many of his MPs on policy but there was also a "great deal of unanimity".
'Thirst for change'
Mr Corbyn said he wanted a less top-down approach to policy making, with more input from grass roots activists and the party conference, which begins in Liverpool on Sunday, at the "centre of concluding policy debates".
"There is a lot of thirst for change out there," he told Andrew Marr. "People want to see things done differently."
In a wide-ranging interview, Mr Corbyn said he supported a huge programme of public investment in the economy and public ownership of key public services, including the NHS, education and transport.
He insisted he could take Labour back into government after he was re-elected Labour leader on Saturday.
He secured 61.8% of the vote, a bigger margin of victory than last year, as he comfortably saw off his challenger Owen Smith.
He won easily in each of the three categories – winning the support of 59% of party members, 70% of registered supporters and 60% of affiliated supporters.
After months of conflict with many of his MPs, on Saturday Mr Corbyn appealed for unity saying "we have much more in common than divides us".
Winning mandate
Mr Corbyn, who spent three decades as part of a marginalised leftwing group of Labour MPs in Parliament before becoming leader, has never had the support of more than about 20% of Labour's MPs.
Dozens quit his shadow cabinet this summer, prompting a vote of no confidence in Mr Corbyn's leadership which was backed by 170 MPs – more than two thirds of the parliamentary party.
There has been speculation that a number of critical Labour MPs could now return although a number are only prepared to do so if elections to the shadow cabinet – which were scrapped in 2011 in favour of the leader picking his own team – are reinstated.
Labour's ruling National Executive Committee discussed the issue on Saturday but no conclusions were reached.
Conservative Foreign Secretary Boris Johnson suggested that Mr Corbyn did not pose a serious threat to the government, telling Andrew Marr his "left-wing 1970s" economic programme was "extremely dangerous".
Source link
[wdi_feed id="7″]